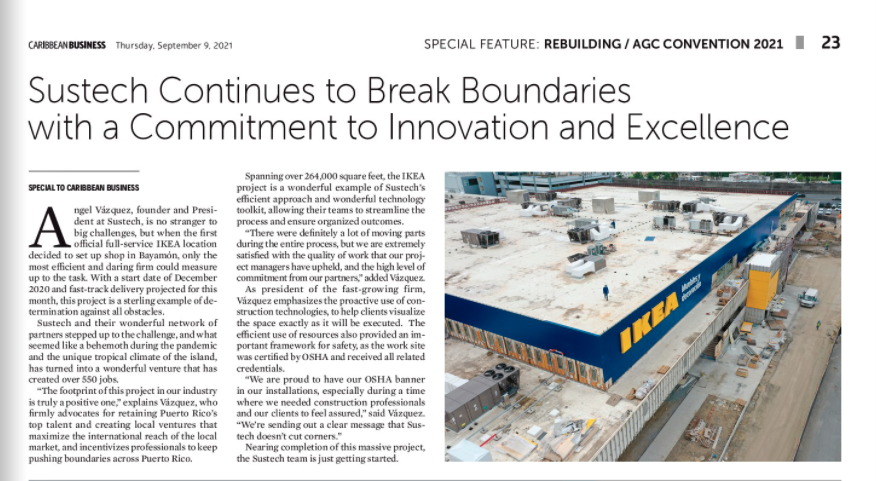 10 Sep

Buzz Worthy: Sustech discusses Rebuilding Puerto Rico in Caribbean Businesses Special Feature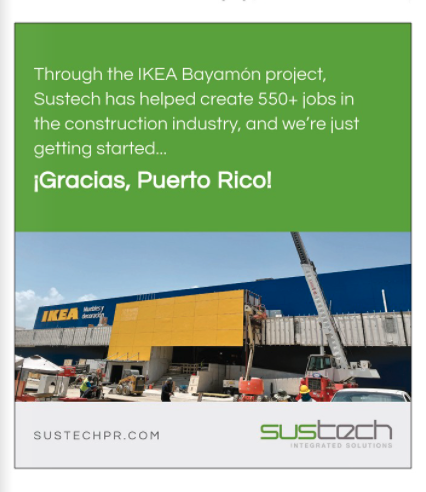 Caribbean Business recently focused on the ongoing and important theme of Rebuilding Puerto Rico in line with the AGC Puerto Rico Chapter's Annual Convention outline. The special feature that is available online and will be distributed at the convention in printed format discussed how many local business have continued to push forward despite the challenges that stem from the aftermath of devastating Hurricane Maria in 2017 and the continued impact of the COVID-19 pandemic that started in 2020.
Sustech's IKEA project is a glimmering example of triumph over adversity. Taking a fast-track approach to a tight deadline during seemingly overwhelming obstacles, Sustech's unwavering commitment to both the client and the community has propelled the project to almost completion on schedule. Our firm's masterful use of modern technology allowed for minimal delays and streamlined construction of this monstrous 264,000 square foot project. And at the heart of it all is our sincere desire to support our island by creating jobs that foster the complete well-being of one of Puerto Rico's most valued assets, its people.
If you would like more information about how Sustech will benefit your project, contact us here.